Welcome Charlottesville Republicans!
Hello and welcome to the official site of the City of Charlottesville Republican Committee. If you are interested in limited government, prosperity for all, better schools, protecting our constitutional rights, supporting the military, and standing up for our families, you're in the right place.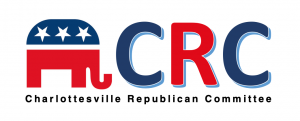 Please feel free to look around, sign up for our newsletter, become a member, donate, or just volunteer. Click Contact Us for questions or to get involved.  We look forward to connecting with you.
Nov 3rd Election Information–Charlottesville City
General Election for the Offices of United States President, United States Senate and United States House of Representatives
In-Person Early Voting Begins:  Friday, September 18, 2020
Last Day to Register:  Tuesday, October 13, 2020
Last Day to Request Mail Ballot:  Friday, October 23, 2020
Go to the Charlottesville City Voter Registration Website for absentee ballot and voter information
Latest GOP News
RPV Drive-thru Convention, Saturday 15 August 2020

(8/11/2020)

-

Charlottesville certified delegates will cast their ballots at Madison County High School between 9am and 3pm.  Click on article link to access sample ballot and directions. Post expires at 5:02pm on Wednesday August 11th, 2021

Bob Good secures Republican Congressional nomination

(6/24/2020)

-

Fauquier Times (June 15, 2020) Bob Good emerged as the Republican Party's nominee for the 5th Congressional District seat after a nominating convention on Saturday, unseating incumbent Congressman Denver Riggleman. Good received 58% of the weighted vote total, and 60% of the raw total of votes, after 2,537 delegates cast …
Past News
Republican Creed of Virginia
We believe:
That the free enterprise system is the most productive supplier of human needs and economic justice
That all individuals are entitled to equal rights, justice, and opportunities and should assume their responsibilities as citizens in a free society
That fiscal responsibility and budgetary restraints must be exercised at all levels of government,
That the Federal Government must preserve individual liberty by observing Constitutional limitations
That peace is best preserved through a strong national defense
That faith in God, as recognized by our Founding Fathers is essential to the moral fiber of the Nation
Republican National Party Platform of 2016
The delegates to the Republican National Convention adopted the Official 2016 Republican Party Platform.  The Platform declares the Party's principles and policies.