State Central Committee Meeting 1/24/2015
Charlottesville GOP Chairman Barbara Null met retired Lieutenant Colonel Ollie North at a luncheon for outgoing RPV Chairman Pat Mullins before the State Central Committee meeting on Saturday, January 24th.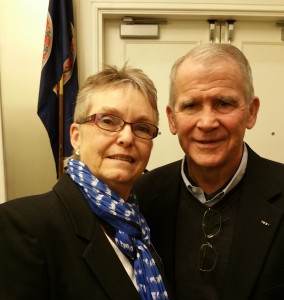 What a treat!
At the meeting, 10th District Chairman John Whitbeck was elected by acclamation to replace outgoing Chairman Pat Mullins.
Finally, it was determined that 5th District Chairman Jon Berkley failed to function as a district chairman. We'll have to see what this actually means down the road.
For more details on the meeting, see The Bull Elephant and The Republican Party of Virginia.